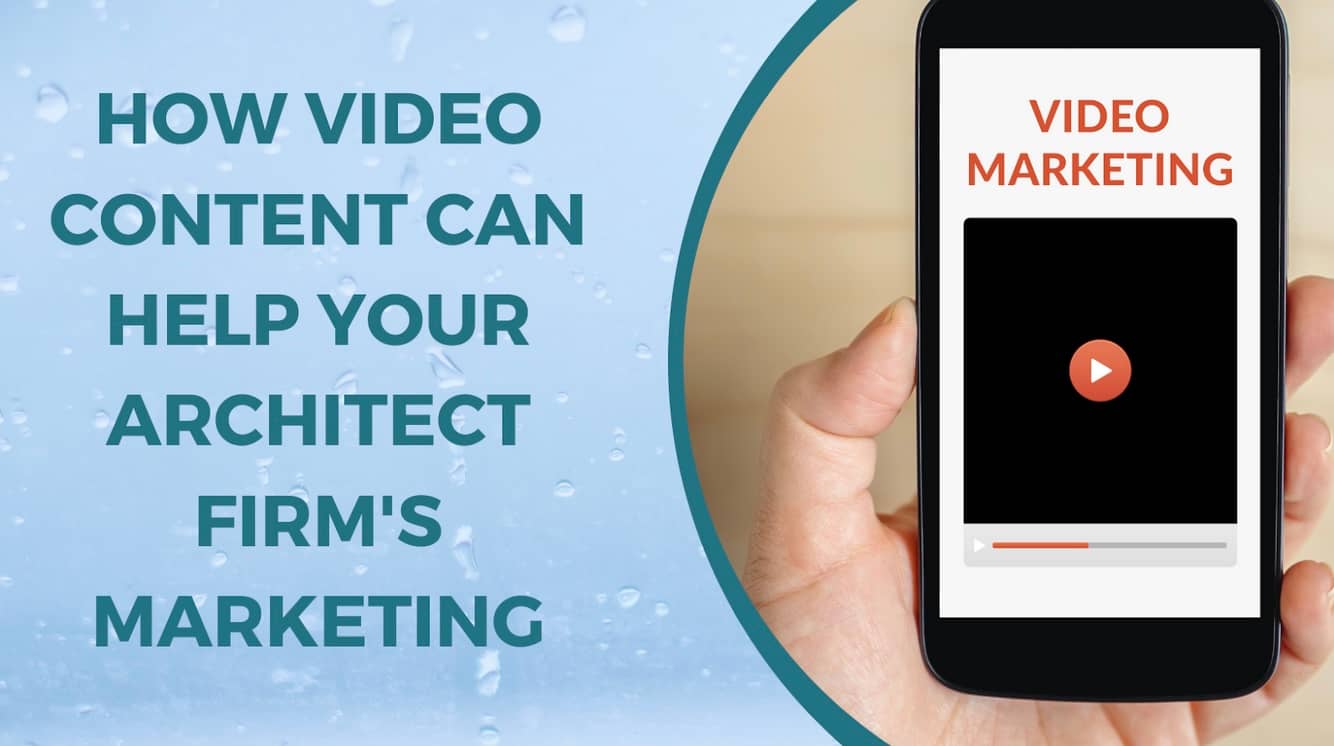 With so much industry competition in architecture, it cannot be easy to be noticed by the crowd and reach potential customers. However, you may be overlooking a potent instrument in video content.
In recent years, video marketing has become increasingly popular, and for good reason as well. You can showcase your work, emphasize your unique selling points, and communicate with your target audience in a way that text and photographs cannot do. Video is now more accessible than ever, thanks to social media, YouTube, and Vimeo.
Whether you're new to video marketing or seeking to take your strategy to the next level, this article is for you.
6 Benefits of Video Content for Architect Firms
Generate Leads
Lead generation is one of the most vital things to help your business grow, the more leads your business generates the more potential customers you can connect with and video content marketing can help viewers turn into potential leads.
Using video content on digital channels, architecture firms can reach more clients and showcase their work. Architecture firms can increase brand recognition and lead through captivating films.
One effective approach to marketing for architects using video content is to showcase the firm's design process. This may consist of behind-the-scenes footage of projects, interviews with architects regarding their creative process, and time-lapse recordings of project development. Architectural firms can establish credibility and demonstrate expertise by revealing their design process.
Video marketing for architects can also emphasize the firm's style and aesthetic. Discussing the company's design philosophy and previous initiatives can be beneficial in terms of generating leads. Businesses can attract clients looking for unique designs by showcasing their style and approach to architecture.
Enhanced Communication
Marketing for architectural firms can be greatly enhanced through the use of video content. Video marketing is a great way to improve communication between architectural firms and their clients. By adding audio and visual components to your video, you can enhance your message. Make use of video to explain complex concepts clearly and concisely. The video content displays and audibly captures the personnel of your company. The credibility and reliability of a brand primarily drive brand loyalty.
Video content is also a great way to promote your work. Your marketing for architects should include social media, email marketing, and a website allowing consumers to view videos on their mobile devices. This increases audience quantity and conversions. By reducing meeting and presentation costs, video content can reach more people. Video content is advantageous to architectural firms.
Increased Engagement
The use of video marketing to boost engagement among architects is on the rise. Immersive and interactive videos can hold the attention of spectators. Video content may make your initiatives and expertise more entertaining and memorable, setting you apart from the competition. By establishing a rapport with your audience, videos can elicit feelings and increase brand loyalty and consumer retention.
The greater shareability and virality of video content increase engagement. Your audience may easily share social media videos promoting your brand and services. Video content can boost your website's search engine ranking and visitors. Video content may increase your architectural firm's brand visibility, engagement, and leads.
Better Visualization
By using video marketing, architects can improve their visual understanding. Videos may make your projects and ideas more realistic and exciting, helping your audience understand your vision and design principles. Video material can show your projects' features and benefits in detail. This might distinguish you from the competition and leave a lasting impact.
Video content can also help you envision your designs utilizing 3D rendering and animation. This can help you give clients a more accurate portrayal of the end product, helping them make better project decisions. Video content also enables you to collaborate and present your ideas and concepts to your team. Video material in your architecture firm marketing plan improves visualization, communication, and customer happiness.
Improved SEO and Website Traffic
Using video content in your marketing for architectural firms is a great way to boost your search engine rankings. Google prefers websites with high-quality video content since they have a longer visitor duration and lower bounce rate. Embed videos on your website to increase user engagement, time spent, and SEO ranking. Video material can also target keywords and phrases related to your architect firm's services and industry, enhancing your website's SEO.
Video content also enhances website usability. Videos are more dynamic and entertaining, making exploring your information and services easier. Videos can also make your work more visually appealing and accessible. This increases website traffic, brand exposure, consumer loyalty, and conversions. Video content may boost your architect firm's SEO, user experience, and lead generation.
Cost-effective Marketing
To promote architecture cheaply, architects might consider using video content. Investing in high-quality video material can pay off in the long run. Repurposing and sharing videos on social media, YouTube, and your website expands your reach. Videos can also boost leads, sales, and ROI. Video content may help you generate brand awareness, thought leadership, and business growth.
Video material saves architects money on print ads, billboards, and commercials. Video content lets you reach your target audience and track results more precisely. Videos can also strengthen audience bonds, increasing brand loyalty and consumer retention. Video content can help your architectural firm contact more customers and grow cheaply.
Types of Video Content for Architect Firms
Project Walkthroughs and Tours
Architect firms can display designs and engage audiences with project walkthroughs and tours. These videos allow viewers to explore your endeavors virtually. Visualization and animation in 3D can enhance project excursions and walkthroughs. This enables your audience to comprehend your design concepts and appreciate their benefits.
Tours and walkthroughs of a project also increase audience confidence and trust. Detailing your initiatives demonstrates your expertise and attention to detail. This can assist you in acquiring clients and becoming a leading architectural firm. Project walkthroughs and tours can also help you stand out and leave a lasting impression. Project walkthroughs and tours can boost your architectural company's engagement, trust, and leads.
Client Testimonials
Client testimonials help architects gain trust and credibility. Social proof from delighted clients shows your firm's quality and benefits. Video testimonials allow your clients to speak directly to your audience, creating a more honest and personal relationship. Client testimonials show your firm's skill and success, attracting and retaining new clients.
Testimonials from your clients can also make your brand stand out. You may demonstrate your flexibility and ability to satisfy each client's needs by including testimonials from a vast clientele. Client testimonials can help you improve your services and suit clients' needs. Client testimonials can boost your architectural firm's trust, brand awareness, and sales.
How-to Videos
How-to videos can help architects educate their audience. These films can teach complicated design and building ideas step-by-step. Design, materials, construction, and more all be covered in how-to movies. By producing educational content, your organization can achieve thought leadership.
You can reach a wider audience because the videos are engaging and easy to spread online. Customers can be attracted and kept around through the use of these videos displayed on your website, social media, and other channels. Learning and interacting with a brand may be made more exciting and memorable with the help of how-to videos. Engaging, thought-leading, and learning are all improved by how-to films.
Expert Interviews and Insights
A great way for architectural businesses to engage their audience with helpful information and opinions is through interviews with industry experts. Interviews with thought leaders in the building sector can provide light on the latest developments, best practices, and innovative technologies. Podcasts, videos, and blog articles are just some formats that lend themselves well to interviewing subject matter experts. These interviews can help your business stand out by establishing it as a thought leader and reputable source of industry information.
Expert interviews and insights facilitate networking with other specialists in your field. Developing relationships with subject-matter experts can lead to partnerships, cross-promotion, and referrals. Consequently, you can expand your customer base and enhance your market reputation. Interviewing experts can boost your marketing strategy for architects, build thought leadership, and create new growth opportunities.
Architect firms may effectively market their beliefs and identity via branding videos. These videos can show your brand's personality, mission, and vision, helping your audience connect. Branding videos can communicate your brand story, culture, and voice via animations, motion graphics, or live-action footage. A successful brand film may differentiate your company from competitors, connect with your audience emotionally, and position your business as an industry leader.
Branding videos can also boost brand awareness and audience reach. These videos can be posted on your website, social media, and other platforms to attract and keep clients. Branding films can also help you communicate your brand's message and unify your marketing strategies for architects. Branding films can boost your architectural firm's visibility, emotional connection, and differentiation from the competition.
Conclusion
Video may transform your architectural firm's marketing. Video can engage, inform, and inspire a wider audience, display your work, and increase leads and sales.
You can maximize the effect of your content and promote your firm as an industry thought leader by building a strategic video marketing plan that includes social media postings and project videos. Focus on storytelling, authenticity, and value to make videos that connect with your audience and convey your brand's message.
Like any marketing campaign, video needs rigorous planning, implementation, and measurement to succeed. You can improve your video marketing for architecture firms by setting goals and defining your audience.
Video content is just one part of marketing, but it may help your architectural firm stand out in a crowded market. Why not try? Video can be a powerful tool for digital marketing for architecture firms if it is used with some innovation, persistence, and effort.