Innovation management software has become a crucial tool for businesses looking to stay ahead of the competition. Companies are searching for new ways to enhance productivity and improve employee engagement.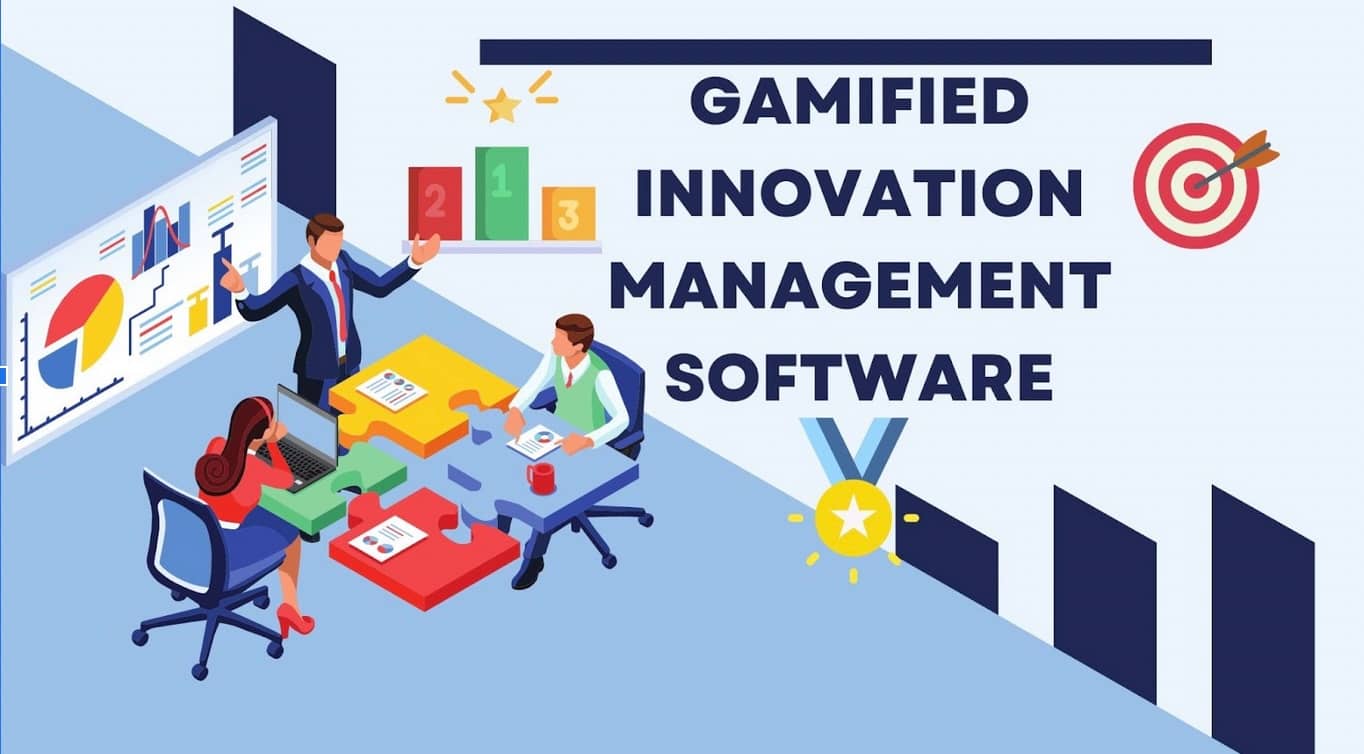 Gamified innovation management software offers a unique approach to address these challenges. Incorporating gaming elements can inspire employees to develop new ideas and collaborate effectively.
In this post, we'll examine innovation management and gamified innovation software and discuss their effects on employee engagement. This article is a must-read!
What Is Innovation Management?
Innovation management creates, applies, and evaluates new ideas. These ideas can enhance the organization's products, services, and operations. It is an essential aspect of business growth and success, as it encourages continuous improvement and adaptation.
An innovation management software system involves different strategies. This includes idea management systems, change management, and fostering a culture of innovation.
Idea Management Systems generate creative and out-of-the-box ideas to solve problems or improve existing processes in the organization.
Change Management implements new strategies and lets employees adapt to changes in a smooth and efficient manner.
Culture of Innovation fosters a workspace where employees try new things, embrace risks, and learn from setbacks.
Organizational Innovation transforms the organization's structure and processes to support continuous improvement and innovative thinking.
Collaborative Business encourages collaboration and communication among employees to enhance teamwork and idea generation.
Gamified Innovation Management Software: How It Works
Gamified innovation management software combines innovation management and gaming aspects. This blend forms a lively, interactive platform for employees. This innovative software includes leaderboards, badges, points, and challenges. These features can boost competition, teamwork, and motivation among colleagues.
Some popular innovation management solutions include gamified idea management systems and innovation management tools.
Features of Gamified Innovation Management Software
Customizable Gamification Elements
Key to innovation software, customizable gamified elements let firms adapt platforms to their needs. Customization boosts engagement, competition, and user experience, enhancing innovation and performance.
Collaborative Tools
Collaboration drives innovation. It is important to use software with built-in tools like chats, file-sharing, and brainstorming spaces. These tools can foster teamwork and improve the problem-solving skills of employees. Efficient communication and idea sharing can also propel innovative solutions within the organization.
Ease of Integration:
Your chosen software should integrate with existing systems effortlessly. Compatibility with project management tools, CRM, and communication platforms streamlines adaption, eases employee learning curves, and facilitates data sharing. This can lead to enhanced efficiency and collaboration.
Analytics and Reporting Capabilities
This is vital to innovation where software, analytics, and reporting offer performance insights. Metrics like submission rates and engagement levels also highlight trends and bottlenecks that are happening in the organization. Using advanced tools can gauge innovation ROI and support data-driven decisions and effectiveness.
Scalability
Innovation software must be scalable to grow and adapt. By accommodating more users, projects, and ideas without performance drops, scalable solutions can ensure continued support for innovation goals amid growth and change.
The Impact of Gamified Innovation Management Software on Employee Engagement
Gamified innovation software boosts employee engagement because it raises motivation, collaboration, and satisfaction. When employees are engaged, they are more likely to be motivated, committed, and satisfied with their work. A gamified innovation management platform helps achieve this by:
Encouraging friendly competition through leaderboards and rewards.
Providing instant feedback through points and badges.
Offering a sense of achievement and progression as employees complete tasks and challenges.
Increased Participation and Collaboration
Gamification taps into one's innate desire for competition, reward, and recognition. By incorporating game-like elements into the innovation process, gamified innovation management software:
Encourages employees to submit more ideas.
Motivates them to collaborate on existing ideas.
Fosters a sense of friendly competition.
Creates a fun and engaging environment.
Research has shown that gamification can significantly boost participation and collaboration among employees. For instance, a study by TalentLMS found that 89% of employees feel more productive when their work is gamified.
Enhanced Employee Engagement
Employee engagement is crucial for driving innovation, and gamified innovation management software can help:
Keep employees motivated and focused on innovation.
Make innovation a regular part of their workflow.
Encourage the employees to take ownership of their ideas.
The power of gamification lies in its ability to make complex tasks more enjoyable and accessible. With gamified innovation management software, employees are more likely to stay engaged and actively participate in the innovation process.
Improved Idea Generation and Quality
Gamified innovation management software not only increases the number of ideas generated but also improves their quality. This can be attributed to:
Providing instant feedback on submitted ideas.
Encouraging collaboration and refinement of ideas.
Awarding points, badges, or other incentives for high-quality contributions.
These features make it easier for employees to iterate on their ideas and enhance the overall quality of ideas submitted.
Greater Employee Recognition and Reward
Recognition is a powerful motivator, and gamified innovation management software leverages this by offering various rewards and recognition mechanisms. These may include:
Leaderboards that showcase top contributors
Badges or achievements for reaching specific milestones
Points that can be redeemed for tangible rewards or company perks
By recognizing and rewarding employees for their contributions, organizations can foster a culture of innovation and drive employee engagement.
Accelerated Innovation Process
The engaging nature of gamified innovation management software can help organizations accelerate their innovation process. This is achieved by:
Providing a centralized platform for idea submission and collaboration.
Facilitating communication between employees and decision-makers.
Streamlining the evaluation and implementation of ideas.
As a result, organizations can quickly identify and capitalize on innovative ideas, giving them a competitive advantage in their industry.
Final Thoughts
Gamified innovation management software is an effective way to boost employee engagement. It can also improve idea generation and accelerate the innovation process. By incorporating game-like elements into the innovation process, organizations can create an engaging environment. This environment motivates employees to actively participate in driving innovation.
Organizations can create a more engaging and collaborative work environment. In addition, this environment encourages employees to contribute their best ideas and drive organizational transformation. As a result, businesses can stay ahead of the competition, adapt to changes, and achieve long-term success.
Frequently Asked Questions (FAQs)
What are the benefits of gamification for workplace learning?
One of the best things about using a gamification approach is that it makes employees more likely to communicate with each other. Gamification creates competition among them by using things like badges, points, and rankings. People are more likely to reach out to each other for help or advice because they want to earn points and prizes.
How is gamification used in employee training?
When it comes to training, gamification means using game-like features, rules, and mechanics. The goal of any training program should be to make learning fun, interesting, and fulfilling. Game-based training and growth can help you get there.
How can gamification improve employee motivation and performance?
Gamification uses positive feedback to get people more interested and motivated. It turns hard tasks into easy ones that the brain can learn over time without as much fatigue or stress. It also uses the status and power feedback system in the brain.